Sean Gilman joins Unissant as VP, National Security Business Unit
HERNDON, VA – June 1, 2021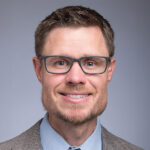 Sean Gilman joins #TeamUnissant as Vice President, National Security Business Unit, overseeing the company's work with the Department of Homeland Security (DHS).
"We're very excited to have Sean join our team," says Unissant President Ken Bonner. "His experience within Homeland Security managing Scaled Agile/DevSecOps programs makes him the perfect person to head our critical programs supporting Customs and Border Patrol (CBP)."
Prior to joining Unissant, Sean directed the National Security Unit at Brillient, where he led strategic planning and execution, including operations, contract delivery, and growth across that company's Federal National Security lines of business. Before that he was Agile Director and Program Manager at Unisys as well as Program Manager for Quasars, Inc. and ECS Federal. Before working in the private sector, he spent ten years working for the Department of Defense (DOD) in a number of positions including Program Manager, Project Manager, Research & Development Supervisor and Electrical Engineer. He holds a Master of Science degree in Technology Management from George Mason University and a Bachelor of Science degree in Electrical Engineering from the University of South Florida.
About Unissant, Inc.
Unissant is a data-driven digital transformation & cybersecurity services company with expertise in Health IT, Finance and National Security. Founded in 2006, Unissant is a prime contractor on various government vehicles such as CIO-SP3, GSA PSS, GSA HealthIT SIN, and GSA 8(a) STARS II and is a CMMI Level 3, ISO 9001 & 27001 certified company headquartered in Herndon, Virginia with a satellite office in San Antonio, Texas. Unissant is the recipient of various industry awards such as "Government Project of the Year," "Health IT Innovation Award" and most recently the "Disruptive Technology in Government" award.